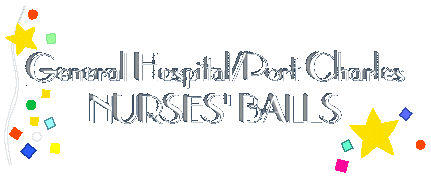 Here is a guide to the performances at Nurses' Balls gone by. They are held to benefit AIDS research and are normally held towards the end of June. Though we have tapes of the last six nurses' balls, we don't have one from the first year, so if we've left out an act from that year, let us know. All of the balls have been hosted by the inimitable Ms. Lucy Coe in the most stunning array of gowns that wouldn't fit anyone else. Titles and some names are linked to sounds wavs. Also included are our top ten lists, written at the time, relating to the balls.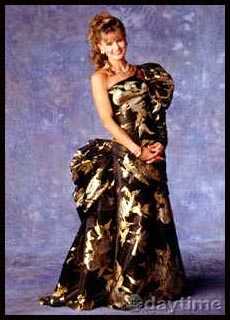 1994
The First Annual Nurses' Ball
Triplets - Kevin Collins, Monica Quartermaine, Simone Hardy
(From the Film Bandwagon 1953)
Clown Dance - Felicia and Maxie
Comedy Routine - A.J. and Jason Quartermaine
(Something with bad imitations)
Casey at the Bat - Steve Hardy
(Poem by Ernest Lawrence Thayer)
Death Scene Romeo and Juliet - Stone Cates and Robin Scorpio
(Shakespeare of course)
Bad Comedy Routine - Mac Scorpio
(Cranky Mac lashes out at parenting and later Kevin)
Tango - Bobbie Jones and Damian Smith
(Alan, locked in closet, Tony, walked out)
Plus, of course, the nurses' chorus line and Lucy in her underwear. The first Ball was underwitten and, in fact, suggested by Damian Smith.

April 1994
Top Ten Things That Could Go Wrong With The Nurses Ball
10) Nurse Amy's dress way too tight. She passes out
9) Miguel eats all the bean dip
8) Meg forgets to send Steve Hardy an invitation
7) Nasty storms blows in; but Bobbie shows up anyway
6) Amy unwilling to let Meg cut in on her dance with Damian
5) Miguel brings endangered Puerto Rican Golden Chicken (El Pollo de Oro) to donate to the nurses fund. It escapes from its crate and wreaks havoc, causing Bobbie's face to freeze into a permanent gape, Steve to drop shrimp puffs and warm cocktail sauce on a prone and delighted Ruby, Audrey to rethink her position on Ryan, Meg to consider other career options and Damian to laugh uproariously
4) Two words: Outback Catering
3) Chain holding chandelier breaks; ruins country line dance
2) Ball Room chosen as alternate site for Karen and Jagger's Wedding
And the number one thing that could go wrong with the Nurses' Ball:
1) Bobbie exactly as stupid as Damian thinks she is
"Do you honestly think I am too naive, or stupid to see through
this sudden burst of philanthropy?" Bobbie Jones
May 1994

Top Ten Entrants in the Nurses' Ball Talent Show
10) Tony - Does "Somebody stole my Gal" on the ukulele
9) Steve (Koop Doccy Doc) Hardy - Rappin' all night long
8) Meg and Amy - Do "Which Floor are we on?" comedy routine
7) Doctor Alan Quartermaine - Performs his amazing disappearing corpse trick
6) Miguel - croons a Barry Manilow medley with a duck on his head
5) Audrey - Demonstrates filing system using Ross Perot Method and a pointy stick
4) Bobbie - Does Karen's stripping act. (Mass exodus ensues)
3) Lucy and Damien - do a tango so erotic that ABC is forced to preface the show with a parental advisory
2) Mary Mae and Luke - "cut a rug", not erotic at all; ABC forced to preface the show with a tedium warning
And the number one entrant in the the Nurses' Ball talent show:
1) Kevin Collins does ventriloquism act with a little Mac dummy...in just a towel. (Him and the Dummy)


"What's the bunny's name?" Kevin/Frisco Bear
"I don't know we'll have to ask Maxie." Kevin
"I think I'll call him Kevin Bunny." Maxie
June 1994
Top Ten Nurses Ball/Aids Benefit Talent Show Awards
10) The Will Shakespeare Award - For Most Unexpected Ability To Act
Goes to Stone Cates for his rendition of Romeo.
(Anyone else get the impression that Sutton is more accustomed to stage than to television?)
9) The Madonna on Letterman Award - For Most Churlish And Uncharitable Behavior
Goes to Amy Vining for not helping out when she should and generally being a snot to Lucy (our hero!)
8) The Betty Grable Award - For "Best Gams"
Goes to Audrey Hardy, hands down.
(We're insanely jealous that she looks that good at nearly twice our age)
7) The J. Edgar Hoover Award - For Most Discriminatory Police Officer
Goes to Sean Donely, who only wants to arrest people he doesn't like
6) The Ronald Colman Award - For Best Tux
Goes to Sonny Corinthos. (Nice understated elegance and the
anticipation made it seem that much better)
5) The Renaissance Man Award - For Most Positive Accomplishments
Goes to Jason Quartermaine, who handled the sound and lighting, participated in a comedy routine, covered for the deplorably unhelpful Amy, had serious quality time with Keesha, and got his father out of the closet
4) The Unknown Comic Award - For Least Funny Comedy Routine
Goes to Mac Scorpio for his unamusing diatribe against teens and shrinks. Much more amusing was the lead in with Mac being confused by everyone telling him he was naturally funny. A.J. and Jason's comedy routine came in a close second
3) The Kalmar & Ruby Award - For Performing The Most Insidiously Haunting Tune
Goes to Dr. Kevin Collins, Dr. Simone Hardy, and Dr. Monica Quartermaine, for "Triplets"
2) The Slack-Off Award - For Most Undeserved Credit
Goes to Bobbie Jones, who was credited with organizing the Ball, but never seemed to do anything but make time with Damien
And the number one Talent Show Award:
1) The Clark Kent Award - For Most Amazing Quick Change Act
Goes to Lucy Coe and her wondrous wardrobe
"It was memorable." -- Jason Quartermaine
1995
The Second Annual Nurses' Ball
Somewhere Over the Rainbow - Eddie Maine and the Idle Rich
(From the film Wizard of Oz 1938)
If I Only Had a Brain - Tony Jones, Kevin Collins, Alan Quartermaine, Emily Bowen Quartermaine
(From the film Wizard of Oz 1938)
King of the Forest - Alan Quartermaine
(From the film Wizard of Oz 1938)
We're Off To See the Wizard - Tony Jones, Kevin Collins, Alan Quartermaine, Emily Bowen Quartermaine
(From the film Wizard of Oz 1938)
Midnight Train To Georgia - Mary Mae Ward and her Pips
(Originally performed by Gladys Knight and the Pips)
Hip Hop Dance - Luke and Lucky Spencer
Power to Believe - Miguel Morez

You've gotta have heart - Steve Hardy and Tommy Hardy
(From the Broadway Musical Damn Yankees)
Anything You Can Do - Lucy Coe and Damian Smith
(From the Broadway Musical Annie Get Your Gun)
Also Lucy stripped to the song Big Spender and the Nurses' Chorus Line did One. The Ball was Underwritten by Damian Smith. By far our favorite Nurses' Ball with the most numbers and most cohesive theme. Stone's AIDS status was revealed.

June 19th 1995
Top Ten Reasons Bobbie Isn't Chairing The Nurses Ball This Year
10) No longer passionately desires the man financing the Ball
9) Audrey forgot Bobbie's phone number and never contacted her about it
8) Bobbie Slappin' Drill Team catering the affair
7) Couldn't afford to bail Tony out of jail again
6) Wicked Witch role already taken
5) Lucy locked her in a closet when it came time for choosing the chairs
4) Couldn't relate to the concept of Talent
3) Too busy feeling sorry for herself and making catty remarks
2) Psychic advised her not to
And the number one reason Bobbie isn't chairing the Nurses' Ball this year:
1) Still dealing with silicone induced hallucinations

"Bang on my chest if you think I'm perfect." -- The Tin Woodman ~Wizard of OZ~
1996
The Third Annual Nurses' Ball
Beautiful Girls - Alan Quartermaine

Together - Carly Roberts, Tony and Lucas Jones
(From the musical Gypsy)
We're Having A Baby - Ned Ashton
(From the sit-com I Love Lucy... well not originally)
Diamonds are a Girls Best Friend - Katherine Bell (Dara Jensen) and Lucy Coe.
(From the film Gentleman Prefer Blondes 1953)
When Angels Cry - Janis Ian
(From the Janis Ian CD Revenge)
The Nurses' Chorus Line did One, of course. The Ball was underwritten by Katherine Bell. The death of Jon Hanley (Lee Mathis) due to AIDS was announced.
June 14th 1996

Top Ten Things That Could Go Wrong At This Year's Nurses' Ball
10) At the first smell of food, Katherine is overwhelmed with passion
9) Miguel shows up
8) Ned forgets words to Baa Baa Black Sheep
7) Luke and Laura just too depressing to be around
6) Carly is color-blind
5) Unconvincing explanation of Steve's absence
4) Dr. Dorman outside picketing
3) Kevin overcome by ryan-esque mood in the middle of comedy routine with Mac
2) Katherine absconds with the evening's donations
And the number one thing that could go wrong at this year's Nurses' Ball:
1) Lucy doesn't strip
1997
The Fourth Annual Nurses' Ball
It's a Grand Night for Singing/Ten Minutes Ago - Alan Quartermaine
(From the TV special, Rodgers and Hammerstein's Cinderella 1964)
There Ain't Nothing Wrong with Me - Tony Jones and Carly Roberts
(From the Brad Maule album Chameleon 1993)
Last Dance - Bobbie Cassadine and Luke Spencer
(Disco is dead, Luke murdered it, information purged.)
Together at Last - Edward and Emily Quartermaine, (w/Russ Tamblyn)
(From the musical Annie)
You've got a friend - Dara Jensen and Ned Ashton
(Originally by James Taylor)
The Nurses' Chorus Line did One, of course. This ball was underwritten by Jasper Jax and personally we liked V's thrift store dress.
1998
The Fifth Annual Nurses' Ball
Jailhouse Rock- Lucky Spencer, Dara Jensen, Liz Webber, Marcus Taggert
(Elvis Presley from the film Jailhouse Rock 1957)
Someone to Watch Over Me - Alan Quartermaine, Robin Scorpio, Ned Ashton
(Old standard)
Big Spender - Lucy Coe, Brenda Barret, Dara Jensen, Karen Wexler
(From the musical Sweet Charity)
You've Got a Friend in Me - Eve Lambert and Julie Devlin
(By Randy Newman From Toy Story 1995)
Power to Believe - Ned Ashton and Emily Quartermaine
Thank Heaven for Little Girls/Girls Just Wanna Have Fun - Scott Baldwin, Mac Scorpio, Edward Quartermaine, Serena Baldwin, Karen Wexler, Emily Quartermaine, Robin Scorpio, Maxie Jones
(From the film Gigi 1958 and Cindy Lauper's album She's So Unusual 1983)
The Nurses' Chorus Line did One of course, but were rudely interruped by the latest General Homicide victim hanging from the rafters. And Tony, never to be left out, made an impassioned speech about hypocrisy. The Ball was underwritten by Stefan Cassadine.
May 1st 1998
Top Ten Suggestions For The Nurses' Ball
10) Two parter, no unnecessary story
9) Alan sings the theme to Valley of the Dolls
8) This year's sponsor Helena Cassadine (Does steamy tango with Luke too.)
7) Very special guest singing star - Tom Jones
6) Free autographed copy of "General Homicide" (along with your odds of being murdered) at every table
5) Katherine, bad case of hoof and mouth, can't make it
4) Very, very special guest appearance of Sonny Corinthos, singing, "I Enjoy Being a Girl"
3) Chippendale routine by Chris Ramsey, Frank and Joe Scanlon, Jake Marshak, Matt Harmon and very, very, very special guest Dr. Kevin Collins
2) This year's entree... Corn Dogs
And the number one suggestion for the Nurses' Ball:
1) Another arrest for Officer Rick

"Can't let the corny dogs go to waste." -- Scott Baldwin
1999
The Sixth Annual Nurses' Ball
I Feel Good - Ned Ashton, A.J. Quartermaine, Alan Quartermaine, Edward Quartermaine.
(Originally by James Brown)
Cheek to Cheek - Chloe Morgan and Jasper Jax ("Dancing" not singing it)
(From the film Top Hat 1935)
Doctor, Doctor - Chris Ramsey, Eve Lambert, Karen Wexler, Joe Scanlon, Ellen Burgess, Matt Harmon.

High Hopes - Mary Scanlon, Serena Baldwin, Neil Kanelos, Victor Collins
(we'll credit it to Frank Sinatra)
I'm a Woman - Lucy Coe and Katherine Bell
(and this one to Peggy Lee)
Jump, Jive and Wail - Tony Jones and Company
Forever Young - Emily Quartermaine and Ned Ashton
(originally by Rod Stewart)
The Nurses' Chorus Line did a kind of combination of One and a CanCan. The Ball was underwritten by Amanda Barrington as far as we can tell, on the condition that a Fred and Ginger number be presented. There was also some extra entertainment, a videotape by Emily and a videotape of Jerry and Bobbie makin' out.
2000
The Seventh Annual Nurses' Ball
Chick Magnet - Kevin and Victor Collins in a music video
(Haven't heard this anywhere else)
Footloose - Juan Santiago, Emily Quartermaine, Liz Webber
(From the film Footloose 1984)
Simply Irresistable - Ned Ashton
(Originally by Robert Palmer)
Hey Good Lookin' - Alan Quartermaine, Tony Jones, Lucy Coe
(Originally by Hank Williams)
Lean On Me - Juan Santiago, Emily Quartermain, Lucy Coe, Robin Scorpio

There was no chorus line this year or Lucy in her underwear, only an impassioned speech from Lucy re: helping others. The Ball was underwritten by Stefan Cassadine, although he was fake-dead this year and couldn't attend.
Our Suggestions for a Performance by Sonny Corinthos at the 2000 Nurses' Ball.


April 17th 2001
Our Top Ten Ideas For The 2001 Nurses' Ball
10) Edward does "Those Were The Good Old Days" from Damn Yankees
9) Tony Jones does "Tiny Bubbles" with a bunch of girls in Hawaiian grass skirts
8) Lucy does "After You Get What You Want You Don't Want It" from There's No Business like Show Business
7) Jamal and Alison do "Shall We Dance" from The King and I
6) Let Elton do all the decor
5) Chris and Eve do "How Could You Believe Me When I Said I Love You When You Know I've Been a Liar All My Life" from Royal Wedding
4) Luke and Laura do "A Couple of Swells" from Easter Parade
3) The Katherine Bell Memorial Buffet
2) Sonny does "I Enjoy Being a Girl" in a Carmen Miranda outfit
And our number one idea for the 2001 Nurses' Ball:
1) All Performance - No Plot

Our preference for old musicals is showing. And some of these are repeat requests because we haven't gotten what we asked for yet.


We hope you enjoy this year's Nurses' ball. It's one of General Hospital's most endearing and noble traditions... and a lot of fun. And it's in a very good cause. To learn how to donate to AIDs research and treatment, go to our Lee Mathis page. Thank you.


Here a few extra tunes, not from the Nurses' Ball:
When Tony was majorly gone on Carly Roberts, whom he didn't know was his wife's daughter. He wrote this ballad for her "Carly's Song" to clearly demonstrate his mid-life crisis. (647k)
In a supremely creepy moment, Dr. Dorman (Tuc Watkins) sang "Que Sera Sera" just before being murdered in the morgue. (394k)
This little gem is from one of the GH anniversary specials, as Brad Maule sings his adorable GH Song.





You have reached: http://ghnurses.20m.com/index.html

T 'n' T Web Sites and Episode Guides
This page was written by Teresa and Tracy Murray, T 'n' T, copyright 1997-2001. Page design is entitled "Curtain Down". General Hospital is owned by ABC/Disney and no one is saying otherwise. Any samples of songs used here without permission and we are making no profit whatsoever by using them. We urge you to purchase these songs in their entirety, whenever possible, from their legal sources, which sound much better than our little computer wavs anyhow.
Send comments to T 'n' T